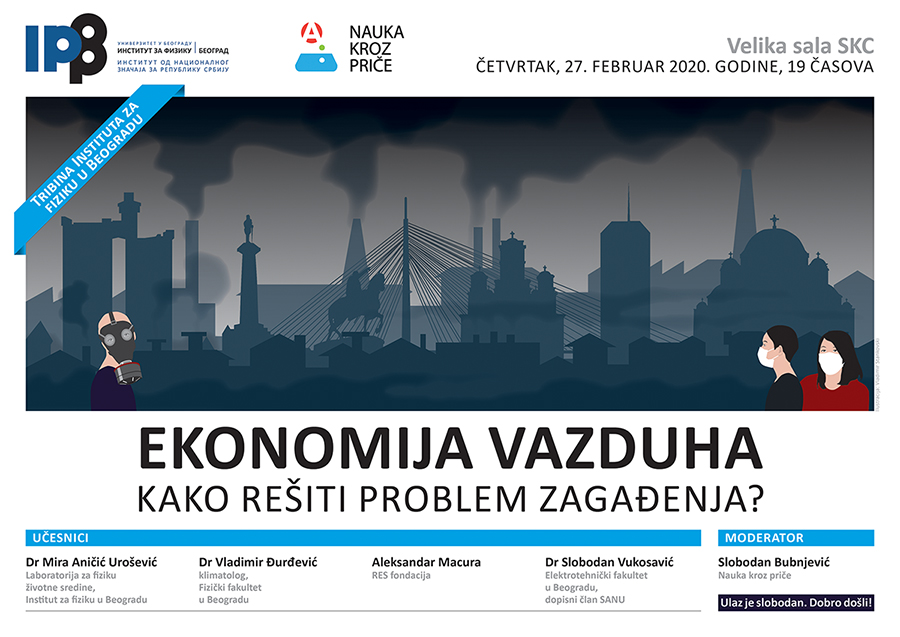 Although the quality of air has significantly improved in previous months, and the pollution topic has stopped being interesting to conventional media, the Big Hall of Students' Cultural Centre was filled to the brim on Thursday, 27 February 2020, on this year's first IPB forum titled 'Economics of Air,' within the Science through Stories initiative.
The topic of pollution, its health effects on people, the living world and the planet, as well as possible solutions were discussed by Dr Mira Aničić Urošević of the IPB Environmental Physics Laboratory, Dr Vladimir Đurđević, a climatologist of the Faculty of Physics, University of Belgrade, Aleksandar Macura of the RES Foundation, an expert on power systems, and Dr Slobodan Vukosavić, a professor of the Faculty of Electrical Engineering in Belgrade and a SASA corresponding member. Slobodan Bubnjević moderated the Forum.
The Forum participants attempted both to shed light on the issue of pollution from a professional point of view, and present possible solutions, emphasizing that the phenomenon was a very complex one and that the changes in the industry, power supply and citizens' habits were long and strenuous. They were unanimous on one point – experts' opinions and data should play a fundamental role.
At the very beginning, Dr Mira Aničić Urošević explained what suspended particles were, which had extensively been discussed in the previous period, and then she stated that the air in an urban environment had always been polluted – the only question was to what extent. Talking about possible solutions to the problem of pollution, Dr Aničić Urošević mentioned afforestation, reminding the audience that once a much larger area of Serbia had been covered by forests. However, she warned that afforestation in urban environments had to be organized under close supervision according to a plan, in order not to do more harm than good.
Dr Vladimir Đurđević spoke about carbon dioxide as the 'worst' gas, illustrating how human activities had given rise to its amount in the atmosphere, which had a long-term detrimental effect on the entire planet. Dr Đurđević exemplified with countries which had successfully gone through the process of de-carbonization, explaining that the use of natural gas emitted less carbon dioxide than burning coal, which could be a temporary solution. The only solution, according to him, was that the major part of fossil fuels known to us remained underground.
Aleksandar Macura discussed the Republic of Serbia's economy of coal, explicating the way it has changed since the 1960s when big thermo-power plants started working. Macura emphasized that our social dynamic was very slow, but that it was important to develop solutions adjusted to our surroundings, with a vision converted to public policies. He elaborated that the pollution would reduce if everyone burned standardized fuel in standardized devices, with the main question being how to get there and who would pay for such an energy transition.
Serbia's energy landscape was examined by Dr Slobodan Vukosavić, who stated that he belonged to a generation which had not thought much about energy, or whether they would have it in sufficient quantities, but that the lignite coal reserves could last up to two more decades. However, the shift to renewable energy sources has its own challenges, so, according to Dr Vukosavić, it was most important to heed the professionals and take into account circumstances typical for Serbia.