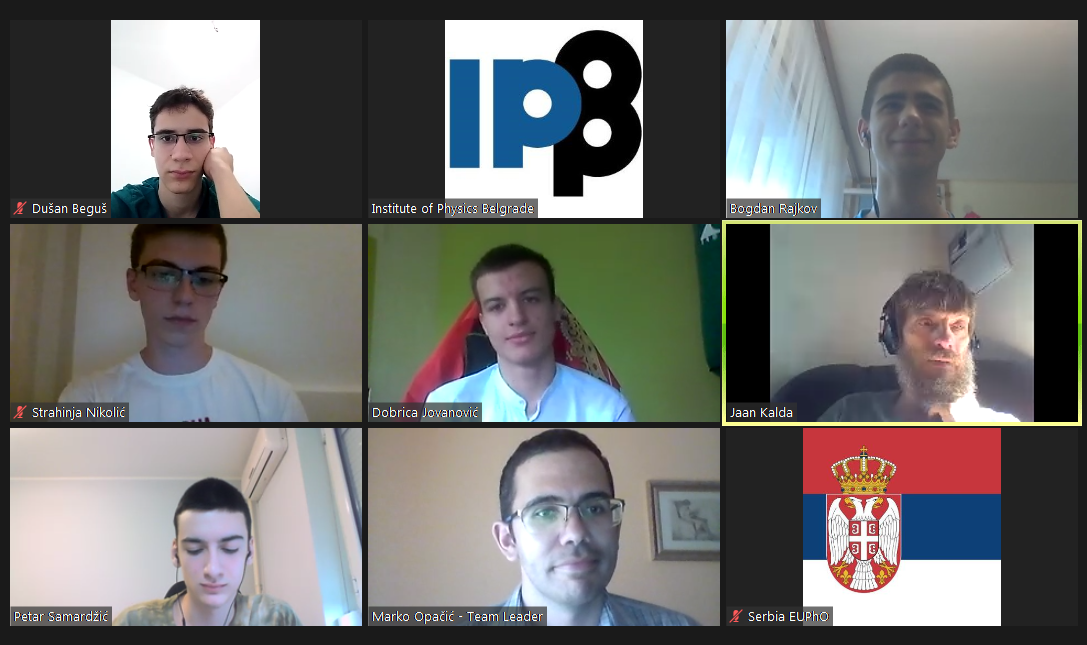 The students from Serbia have achieved extraordinary success at the 4th European Physics Olympiad, winning two gold, one silver and two bronze medals. The European Physics Olympiad (EuPhO) was held remotely in the period 20-26 July, hosting more than 250 students from 57 European and guest countries.
Bogdan Rajkov and Dobrica Jovanović, the students of the Mathematical Grammar School in Belgrade, secured gold medals, Petar Samardžić from the Mathematical Grammar School in Belgrade won a silver medal, while students of the same school Dušan Beguš and Strahinja Nikolić earned bronze medals. The teachers of our competitors are Natasa Čaluković, Ivan Stanić and Branislav Cvetković.
It should be noted that Bogdan Rajkov and Dobrica Jovanović won two first places in the official absolute placement which encompasses only European countries, which means they are absolute competition winners, putting Serbia among the best teams of European countries.
This year, the Serbian team took part in this competition for the first time. The European Olympiad is the most prestigious competition of high school students in solving physics problems, along with the International Physics Olympiad in which Serbia traditionally participates, but which has not been held this year due to the coronavirus pandemic.
The European Olympiad was planned to have been held in Romania, however, it was not feasible due to the pandemic, therefore students solved problems in their native countries. It was significantly more competitive as a result of the participation of visiting non-European teams which, similar to Serbia, were interested in taking part for the absence of the International Olympiad.
Serbia's participation in this competition, the selection of team members and preparations were organized by the researchers of the Institute of Physics, Belgrade. The students from Serbia solved problems in the premises of the Institute in compliance with all prescribed epidemiological measures.
The expert team leaders in the participating countries were in charge of the regularity of the competition, as was the Olympiad committee, which monitored the work of the teams from all countries via a video link.
Official competition page: EuPhO 2020.

Web page with more information on Serbia's participation: Competitions
Photograph: Still of the team of Serbia with Jaan Kalda, president of the Academic Committee of the European Physics Olympiad