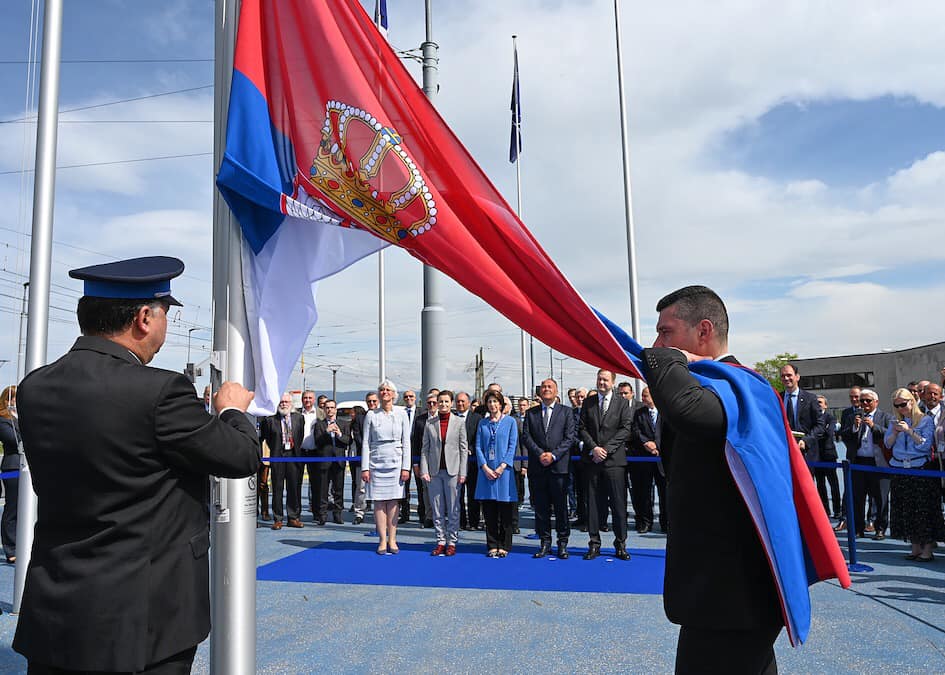 After the Republic of Serbia was admitted to full membership of CERN last month, thus becoming its 23rd member, a flag-raising ceremony was organized on Tuesday, April 23, outside the seat of the European Organization for Nuclear Research.
The ceremony, which marked the admission of our country to one of the largest scientific communities of our time, was attended by CERN officials and Serbia's Prime Minister Ana Brnabić and Minister of Education, Science and Technological Development Mladen Šarčević. "This is a historic day for the scientific community in Serbia, with which we have cooperated for many years," said Fabiola Gianotti, Director General of CERN.
The flag-raising ceremony was also attended by Dr. Petra Adžić and other members of the Serbian Commission for Cooperation with CERN, as well as Dr. Aleksandar Bogojević, Director of the Institute of Physics, a Serbian institution that has closely cooperated with CERN for a number of years.
"For one brief moment, scientists and politicians, both Serbian and foreign ones, thought that this sunny day at the foot of Mont Blanc could indeed be dubbed 'historic'," said Dr. Aleksandar Bogojević, adding that "it is up to us to make this moment of pride last."
"The day when the Serbian flag proudly flew on a mast in Geneva outside CERN is loaded with possibilities and emotions – a day when we assembled around a national symbol that also carried a message about the past that made us what we are and about the future, about what we might become if we have enough faith, vision, ability and perseverance," Dr. Bogojević stated.
The ceremony of Serbia's accession was organized in Geneva, right next to the Swiss-French border, on a broad plateau between the main entrance of the CERN building and the Globe of Science and Innovation. The plateau features a series of masts bearing flags, while one hundred meters under it is the tunnel housing the Large Hadron Collider (LHC).
PHOTO: CERN