Scientific Computing Laboratory
ABOUT SCIENTIFIC COMPUTING LABORATORY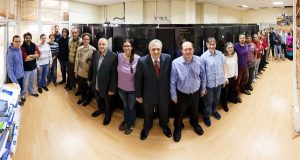 Since 2006, the Scientific Computing Laboratory (SCL) has been recognized as an EU Center of Excellence for modeling of complex systems, and since 2014 it has been accredited as a National Center of Excellence. Its researchers use state-of-the-art high-performance computing cluster PARADOX to conduct numerical simulations and visualizations of classical and quantum many-body systems. The main research topics covered include ultracold and strongly correlated quantum systems, study of electronic and transport properties of materials, and investigation and modeling of complex networks.
SCL has decisively increased the quality and impact of its research effort, and has grown into a recognized leader in HPC in South-East Europe. Since its inception, it has been partner in Europe's flagship e-Infrastructure projects, such as EGEE-II, EGEE-III, EGI-INSPIRE, and PRACE series of projects. The laboratory has been extremely active at the regional level in SEE-GRID series of projects, as well as follow-up projects, such as HP-SEE, VI-SEEM, NI4OS-Europe. SCL was also involved in applied EU research projects (agINFRA, SemaGrow, SMARTCHAIN) The research on complex materials was principally funded through a nine-year national research grant ON141035, as well as Marie Sklodowska Curie grant ELECTROMAT. More recently, SCL is funded by Serbia's Science Fund through a national research grant Key2SM, as well as Horizon Europe projects, such as ERC starting grant SCLoHTiFi and Marie Sklodowska Curie grant YPB.
In the past five years the number of researchers employed at SCL has grown to 32, out of which 14 are senior researchers. Active participation in international and bilateral projects and collaborations has made it possible for SCL to conduct extensive researcher mobility, particularly for its younger researchers. During the same period the laboratory reintegrated 4 postdoctoral-stage researchers from abroad, while 9 researchers who received their PhD degrees here went abroad as postdocs and returned afterwards. At the same time, 8 of our staff decided to pursue industrial careers, which is also one of our important contributions to society.
Head of the SCL is Dr. Antun Balaž.
OUR RESEARCHERS
Dr. Antun Balaž
Dr. Aleksandar Belić
Dr. Aleksandar Bogojević
Dr. Nenad Vukmirović
Dr. Milica Milovanović
Dr. Slobodan Prvanović
Dr. Igor Stanković
Dr. Darko Tanasković
Dr. Ivana Vasić
Dr. Jakša Vučičević
Dr. Marija Mitrović Dankulov
Dr. Milan Radonjić
Dr. Miloš Radonjić
Dr. Igor Franović
Dr. Nataša Adžić
Dr. Iva Bačić
Dr. Dušan Vudragović
Dr. Miljan Dašić
Dr. Veljko Janković
Dr. Vladimir Lončar
Dr. Sonja Predin
Dr. Jelena Smiljanić
Dr. Ana Hudomal
Dr. Mihailo Čubrović
Ana Vranić
Milan Jocić
Suzana Miladić
Petar Mitrić
Darja Cvetković
Marija Šindik